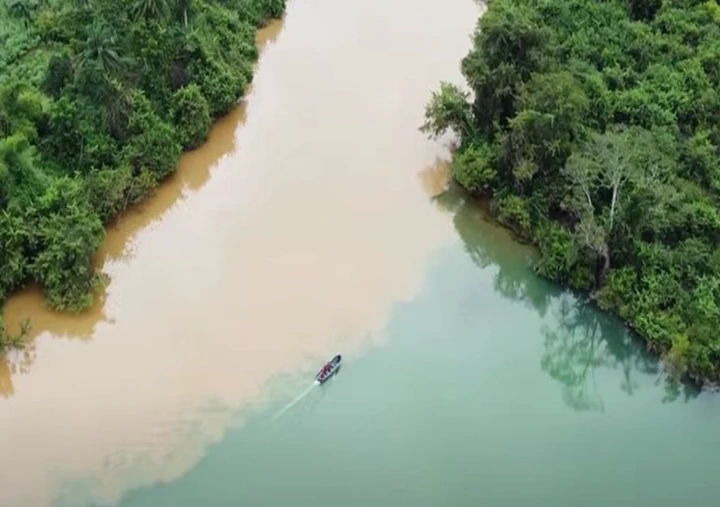 Five things to know about Oguta Lake, where two rivers meet without coming together
Oguta Lake is a lean 'finger lake' formed by deposits of clay, sand, and silt which dammed the lower Njaba river. Oguta Lake is located in Imo State, Nigeria; within the rainforests of Niger-Delta. The lake is about 8.05km long and 2.41 km wide, making it the largest natural lake in Imo State, and South-East Nigeria. Here are five things we know about Oguta Lake.
1. Water flows into the lake mainly from the Njaba river and to a lesser degree, the Uju, Awbana and Urashi rivers.
2. Two of these rivers flow side-by-side, parallel to each other, without ever coming together. This is clearly seen on the surface of the lake. While one half of the lake flows in a shade of green, the other half is brownish in colour. It has existed this way for as long as anyone can remember.
3. The two rivers are thought by the natives to symbolize a man and his wife. Ogbuide, considered to be the female, is the green water, while Urashi, who is the male, is the brown water. According to accounts, the couple argued, and since then, their paths have diverged.
4. The lake is greatly respected, and it represents the Oguta man's sense of dignity. It serves as their main source of water, and provides them with 80% of their protein. A total of 2,403 full-time and 154 part-time fishermen work in the lake.
5. Neighboring towns have become important commercial hubs of international trade, primarily for oil palm, due to the river route through Oguta Lake to the ocean, going through Awo-omamma, Mgbidi, Oguta, Ndoni, Abonnema, and Degema.
This green and brown lake continues to astonish tourists globally as there is none like it. The lake has attracted tourists around the world to admire and gaze at its wonder as well as listen to the folktales surrounding its existence.
Have you ever been to Oguta Lake? Share your experience with us.