After Some Men Took Tesla Car To Petrol Station, See How People Blasted Them
Nigerians were not happy with what transpired between some Men and the Attendants at a Petrol Station in Lagos state. According to a video shared by @234Drive, the Men in discuss decided to test the intelligence of Staffs at an unidentified petrol station in Lagos by ordering the Attendant at the Petrol Station to fill up the tank of an Electric Car.
To them, they only wanted to test the knowledge of these Attendants about the Tesla electric Car, however, they were bashed and criticised by Nigerians who saw the video, because people felt it's a kind of embarrassment to carry an electric Car to a fuelling station just to mock the ignorance of the staffs at the Station. Some people felt it's unfair to toy with the emotions of the workers by ordering them around to look for the Fuel Tank Spot, when the Car has none.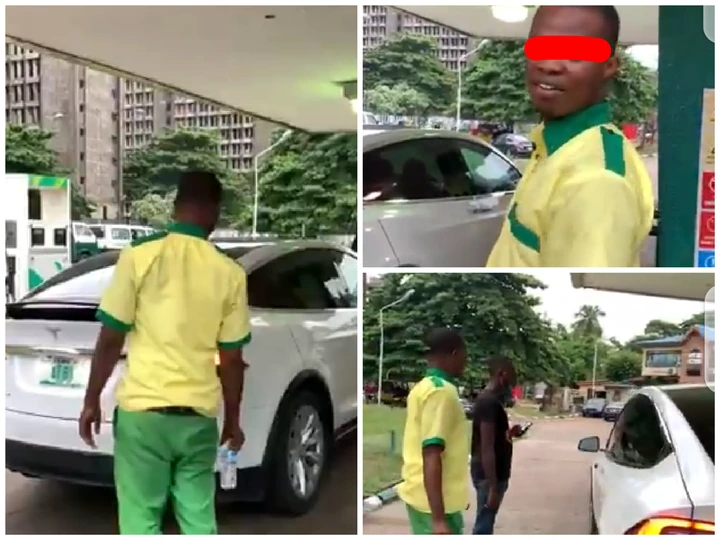 Many people felt they could have done better and showed that they are really intelligent beyond monitory considerations. In contrast to the blunt criticisms, some other Twitter Users felt what these guys did was not bad as they were just catching cruise and having the fun of their life without any dirty mindset. Many of things were said about the Video as some focused on how the Owners of the Car will be maintaining and charging it due to the bad electricity shape in Nigeria and also the lack of professional who will be able to handle or repair the car if anything happens to it. Peep at some of the reactions below.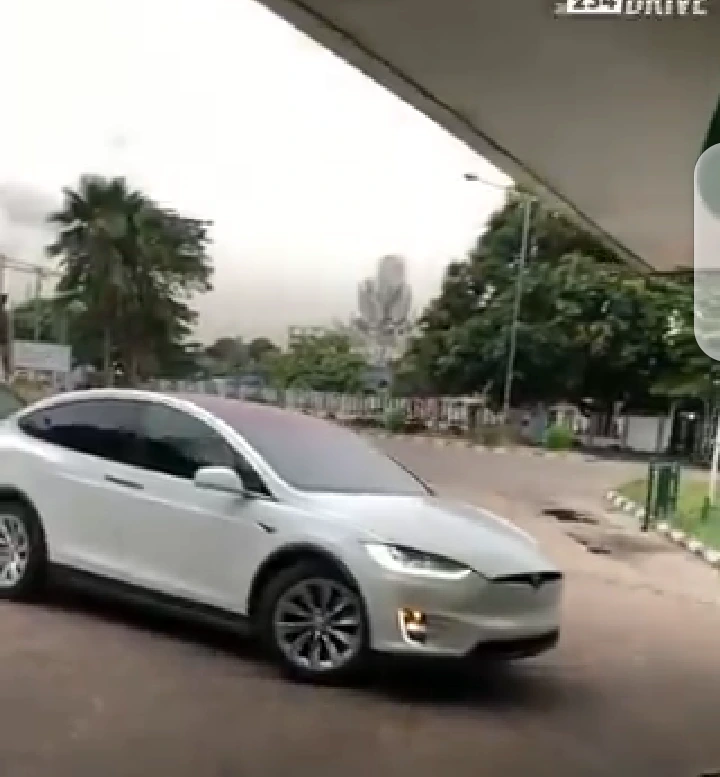 1. "Whoever thought of this idea is foolish 
The person that gingered it to happen is mad
The igando Clarence peters is crazy
You that tweeted this shit, your head is not correct
All of you in that car are nothing but fools."-@Allezamani
2. "y'all silly for this. Na dem attendants get una time"-@_ademidun
3. "So basically, y'all decided to take a car to people's work place to show how unaware they're of something they can't afford? Lol.
Who's y'all content creator?
I can do better.🤍"-@Ayobamiii_ _
4. "This car plenty for Amsterdam. I counted like 20 within an hour. 
My concern Na for where una dey charge am? Naija get light? U get the charging station for your house? Abi na mikano u take dey power the charge station?"-@iamchekzi
5. "What's the meaning of "you no know say na Tesla be this?" How were dy supposed to know? You drove the car there knowing fully well it's electric. You could have ended the video on a good note by enlightening them, not trying to make them look stupid. Very pointless video"-@Donslique1
6. "I honestly thought people would be shocked at there being a Tesla in Lagos because of the lack of wall outlets.
But people are shocked cause of its price and I'm really confused because we see G Wagons and Brabus branded cars here everyday. Teslas cost like half their prices."-@Leonard_Nonso
7. "I'm ashamed of you guys!.Check the handler, it's like a car blog page! There are several cars more expensive than this car in lagos. This is just creating content at the same time letting them know about the electric car. I'm sure the attendants are excited to see an electric car"-@The_Man_Yuki
8. "If I was the fuel attendant I wil pour small fuel on them.. shebi dem wan use me catch cruise make we run am together nahh"-@Timmydennyd
9. "Bunch of dunces, you knew it was a Tesla, yet you took it to a petrol station, asking for it to be filled with petrol. Na una pocket them suppose pour the petrol put. Mumu"-@fivga
10. "Classic example of you can have all the money in the world but you can't buy class. This is really distasteful to say the least."-@Oroboghene
11. "They're obviously not literate enough to know it's an electric car. You just made a fool of yourself and not them
This video has to relevance"-@JagunJagun6
12. "This should have been funny if you had used a better storyline and proper actors and made it in form of a skit. Now, it's just some cringe-worthy crap."-@ofochebe
13. "So you just went there to embarass the petrol attendants?"-@Lyvinston
14. "You took arguably the most unreliable Tesla ever made to a fuel station in order to mock the sellers. Don't worry. You won't be driving that Tesla to mock people very soon."-@ObinnaOssaiCHS
15. "Nah, this doesn't make any sense. You just wasted his time. I mean unless you paid for his time and efforts fine if not this is wrong"-@Hay_Hi_Tee