Airplanes are often crowded and cramped with airlines doing everything possible to maximize the amount of seats available for purchase. Still, it is necessary for flight attendants and pilots to have a place on board to rest. These places are called crew rest compartments, or CRCs.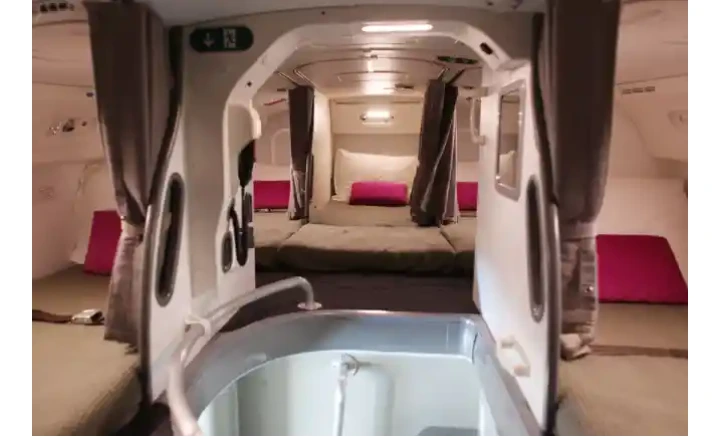 CRCs are vastly different from one plane to another, depending on the amount of space that is available for them to use. Regardless of their size, each CRC is equipped with (at the very least) comfortable beds for them to catch a quick 40 winks. Yet, some other planes offer much more!
Giant aircrafts like the Boeing 787 offer spacious CRCs for their flight attendants, with individual cabins that can sleep up to five flight attendants. The pilots on a Boeing 787 have their own private, two-person CRC where they can go when they need to rest up.
You might expect that because these CRCs are inside of airplanes, the bedding would not be particularly comfortable, but that's far from being true. This flight attendant is more than six feet tall, and he can stretch out in his CRC with comfort and ease.
So, where exactly are these secret CRC chambers located onside of an airplane? It can vary from aircraft to aircraft. Below you will see a photo of an A350 aircraft where there are two CRCs: one for the pilots and one for the cabin crew. They are located at the front and the rear of the plane above the seats.
Some of the CRCs for shorter flights with smaller aircrafts are limited to having just one break compartment, but even that can be a cozy escape from the rigors of flying the friendly skies. This CRC is located behind and beneath the pilot's seat at the front of the aircraft.
Here is an overhead view of a designer's rendering of a five-person CRC for a standard airplane. This CRC doesn't just come with beds and pillows. It provides each crew member with a curtain for privacy and a TV to watch, just in case sleep doesn't come right away.
To give you a better sense of where your crew is sleeping during those long overnight flights, here's a rendering where the side of the plane has been removed to make it easier for you to see the two small sleeping compartments where flight attendants can rest overhead.
On some planes, the CRCs are fancier than others and they provide space for the resting crew to do more than just sleep. This pilots' CRC contains two reclining seats for the pilots to sit in and rest in addition to the two berths behind the chairs.
Some designers have really started to explore ways to make CRCs even more comfortable for the crews during extra long flights. This overhead rendering shows that by bunking the berths you can have extra space for things like a shower.
This rendering of a CRC looks less like something you would find on a plane and more like something you would find on a spaceship in some futuristic movie about space travel! The stacked berths really make great use of the space available on the plane.
The side view of this rendering shows two stacked sets of berths, a TV, and phone unit built into the wall, and also gives you a peek at the jump seat that can be used by flight attendants who are taking a break but don't necessarily want to lie down.
Looking at these CRCs makes you really rethink everything you thought you knew about how airplanes worked. You might have to make sure your stuff fits inside an overhead bin, but for the people working the flight, there is an entire closet in their CRC!
This CRC looks like an old photograph taken of a sleeper car on a train. When we think of sleeping on planes we usually imagine neck pillows and uncomfortable angles, or overpriced first class seats. However, these tidy berths have been available to the crew since commercial flight began.
On private planes, the CRCs can be as ornate and over the top as the private quarters of the people who own the plane itself. Take a look at this queen size bed in the fancy CRC reserved for the use of the pilot during their breaks on this private plane.
This two person berth doesn't just have comfortable and cute looking beds; it's got built-in features like a TV, a telephone that will help them reach other crew members, and a screen where they can monitor activity in the main cabin during the flight.
This is another five-person Boeing 787 berth located at the top rear of the massive airliner. It is accessible only to crew members. To access it they must crouch through a small door and then climb a series of spiral steps. There's very little distinction between beds and flooring here, so no shoes are allowed.
Though two pilots very rarely, if ever, share the pilots' CRC on any major aircraft, pains are still taken to make sure that each person is made to feel like they have as much privacy as possible, even if the CRC itself doesn't really allow for two full separate cabins.