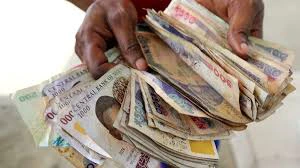 The outbreak of the Covid-19 pandemic distrupted our lives more than we could imagine. Lives have been lost. Jobs have been lost, and so many people have become disoriented.
Although, the government at different levels have tried to alleviate the people's sufferings, and many spirited individuals and Organisation have assisted lives, but none of these efforts are suffice to combat the fallouts of the scourge.
The worst hit are those in the private sector of the economy. While many of then are been paid partially, many have not been paid for Months.
Among the worst hits are the Private School Teachers. Even before the Covid-19 pandemic, the take home of many Private School Teachers had never taken any of them home successfully.
I have been at forefront of raising funds to do giveaways for these Teachers, and the Stories many of them tell me inbox traumatises me beyond words.
I've been left wondering on why many of them are not seeking ways out, beyond being tied to the aprons of their employers.
Recently, I discovered many of them may not know some of these Stuffs that can help them to become self sustaining for life. Many of these business ideas require zero Capitals, while majority of them require less than N20,000 to take off. A single person can combine 2 or 3 of them without much hazzles.
Let me not bore you with much rhetorics. Lets go.
1. Barbing/Neighborhood Hairdresser.
You can Start this in your house frontage. You can get a Clipper for less than N3,000. A fairly used generator costs around N8,500 to N9,000 here in Ibadan. Someone bought one around me recently. It's not too difficult to Barb. I've been my own Barber for the past 14 years, not for lack of money, but for lack of time. I Barb overnight. If I barb my own head, why can't I barb others. You may not be able to Barb special Styles, but neighborhood Kids pay up to N200 per service.
For ladies, you don't need dryers or a special Salon. If you are skilled in plaiting hair, start earning from your Skills today. I pay Madam Letter Writer at least N300-N500 every Weekend, and the same applies to scores of neighborhood Kids.
2. Making and selling chilled Kunnun, Sobo, Soya drinks and small chops like Puff Puff, Buns and Scotched Eggs. (If you are based in Ibadan, my Wife will teach you all of this free of charge). Although it may require Hawking this Stuffs, but be assured of making a very good returns on this efforts.
3. Food Vendors.
If you can cook well, you can start selling food in your area. Sell food to construction site Workers. Sell cooked Food at Parks. You can make local Coleslaw's for sale. Moin moin and others are in high demands by people who don't have time to cook at home.
4. Still on Food. You can have an Akara (Beans Cake) Stand. I know a place where we queue to buy Akara, here in Ibadan. More than 4 boys are working for the Man, and they still can't meet up with demands. Combine it with fried yams and peppered Ponmon in the afternoon. This one na money spinners.
5. Recharge Cards retailing at Parks and busy Junctions. You may not know, but N100 Glo Card is sold for N93 by dealers. MTN N100 goes for N96.50 and Airtel N100 goes for N95. If you can position yourself at a busy intersection, you can make a good Sales. You can combine this with the Sales of Cold Satchel Water and bottled drinks.
6. Vegetable plantings.
Do you know vegetables like spinach, Jute leaves (Ewedu) Okra and others are ready for harvesting in a matter of weeks, if you wet them adequately with Water? This can be combined with other Businesses, and trust me, the market is always in high demand of them.
7. Bread sales in the evening.
I don't know if you've taken note of some Women. who come out to sale fresh bread in the evening. Some of the bread they sell at N300-N400 gives them nothing less than N50-N70 per one. Many of them sell as much as 40 or more daily, if they are in busy areas.
Why don't you think of doing same? Do you see any of them crying yen yen yen around? They may not be stupendously rich, but are they begging to feed?
8. Roasted Corns.
Now that we are in the Season of Corns, I'm sure you've bought Corns for N50, or N100. Haven't you? Many of those Corns don't cost more than N20 or N30 at the farms, where these Women source them from. Yet, many of us won't be ashamed to ask our Mothers who are making money from such in times like this. For how long?
9. Fresh Eggs sales.
Do you know Poultry Farmers don't sell a crate of eggs more than N800-N900? Do you know you can become a neighborhood egg distributor? You can make between N100-N00 per crate. If the turnover is very good, you can make some very good returns from it. After a time, you won't even need to take them round again. People would be coming round to ask by themselves.
10. Photography.
Many of you have Phones with very good Cameras, but all you used them to take na Selfies. Do you know you can help people to do Photo Shoot with your Phones? Many people can't afford Studio price, but they'll be happy if you can help them at prices that is pocket friendly. Fortunately, all that many people want nowadays is the soft copies. For how long will you continue to sit on a whole company like your Phone?
11. Raising Day Old Chicks for weeks and reselling.
In Ibadan, day Old Cockerel Chicks sell as low as N10 on some days. Broilers at times go for between N100-N200 depending on Market factors. You can raise these birds for Weeks, and reselling them profitably. You'll need basic training on this though.
12. Face Shield, Sanitizers, and Nose Masks.
Unknown to you, there are people who've made Millions from these items, since the Covid-19 pandemic broke out. Believe it or not, this scourge is not leaving on any particular day. We may have to live with it for a while. Why not turn the setbacks to items of comebacks? Why not?
13. Home Tutors.
Now that the Kids are home, you can continue holding home tuitions for Kids virtually. You can do Whatsapp recordings and send to Parents who can afford it for a token. It may sound off to you, but many of your Colleagues are making serious dough from this, but they won't tell you.
14. Publishing Jobs outsourcing.
Dear Male Teachers, visit printing Centers and you'll some jobs like collations outsourced to you. I know folks who make between N2,000-N4,000 at Mokola printing area in Ibadan, and Stadium printing area in Akure. I don't know of other locations, but all they do is collating, stitching, and helping with other finishing aspects of publishing.
15. Housekeeping.
Ladies, do you know there are people who'll pay you to come round and tidy up their hones? Such busy people won't pay you only in Cash, they may also pay with groceries too.
16. Home Car Washing.
Guys, there are are people who'll pay you handsomely, to come round and wash their Cars, with their own Water supply, Soaps, and on their Compound. They don't just have the time to waste at any Car wash, and they'll be grateful to have such service rendered to them in the confine of their homes.
17. Driving.
I know many people who can drive, but who are begging upandan for stipends, because their Schools are under locks and Keys.
I know a brother that earns N25,000 driving His Clients Kids to School, and picking them after closing. The Client owns for the Car and fuelling.
There are people who need someone to drive them to work, and to come back and drive them back home in the evening. They are ready to pay handsomely for such part time services.
18. Errand runnings.
You can help those who are too busy to do Shopping. All they need to give you is the list of the items they need, and you help them acquire such, and they'll pay you your Service charge. This is also linked to farm produce retailing. You buy from the farmers and resell to those who need it. In some cases, some people would pay ahead for such items.
19. Clothes Dry Cleaning.
How about helping others dry clean their Clothes? All you need is a good washing basin, and a good pressing iron. Doing home pick up and delivery will guarantee you a better return on this one.
20. Fast Food joints.
You can cook Noodles, fried Eggs, and Tea. It will surprise you how much patronage this will bring you in a couple of days. This is a Unisex business and I know people who are thriving well in this. It doesn't require much to set up, and you are guaranteed steady source of income from it.
There are some others that may require more than the N20,000 threshold I set, and I hope to write more about them later. Let me just add an extra to this.
Has anyone ever wondered about the profitability of the Meat Barbecues, aka Suya business? Why is it dominated by the Hausa people only? Who told you it requires some rocket science? Who told you people won't buy if you make Suya during the daylight?
I skipped dropshipping because I don't know much about it, but I learnt it is lucrative too, and costs very little to run.
Inside this life, I've seen graduate work for almost a decade on a meagre Salary that ranges between N20,000-N20,000 without anything tangible to show for it. Funny enough, I've seen folks who can barely write their names who are doing one or two of the businesses briefly listed above, who've built their own houses, and successfully raise their Kids from their earning. Even if the Covid-19 pandemic siege is lifted, will the whatever you are going back to earn as take home take you home successfully?
Ask many people who are based Overseas, they are doing what you'll considered menial jobs too, driving Taxis, Valet parking, opening doors, walking Dogs, delivering Pizzas, babysitting and so on.
My dear, when life throw Lemons at you, why don't you make Lemonades out of them? Shey na like this you go dey jump from one giveaways post to the other?
I sincerely hope to see some of you picking an idea or two from here, and going ahead to implement it. It may look crude at the beginning, but necessity is always the Mother of inventions. Keep at it, and the best shall evolve with time.
Please, if you are reading this and you have some ideas to share too, kindly chip in. If you are also reading it, and you feel like empowering one or two Teachers to take up any of this ideas as a stop gap in times like this, please reach out to me. As usual, there shall be due diligence with adequate feedbacks on such gestures.