Okwudili Umenyiora is the Igbo man who owns the most beautiful and expensive house in Lagos Island. The opening of Okwudili's mansion shot him to fame.
The mansion house plan was drawn in 2009, and the whole construction took four years to finish and later on in 2013, the edifice was completed and opened. The mansion is rumored to have costed approximately a total of $10 million dollars.
The mansion is located in Lekki Phase 1, around Oniru New Market, Lagos Island. The mansion exterior design is a colorful masterpiece, with a red and white stripped color pattern and is equipped with an outdoor swimming pool, an elevator, garages, and many more, with the interior revealing a colorful designs, with Armani's art works plastered on the wall, with also an indoor swimming pool, indoor garages, floor TVs and many more. With the indoor garages housing some of the Dilly's luxurious automobile vehicles including Okwudili's own Rolls Royce and his Lamborghini.
The mansion's top floor connected to the ground floor by an indoor elevator, Okwudili Umenyiora hired a housekeeping team to help him manage the mansion and keep the environment tidy.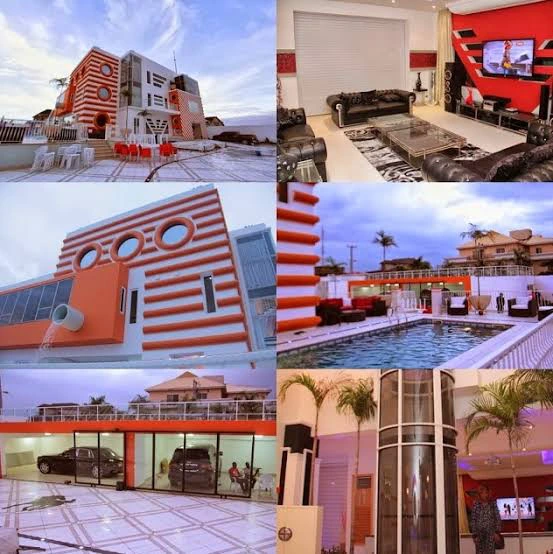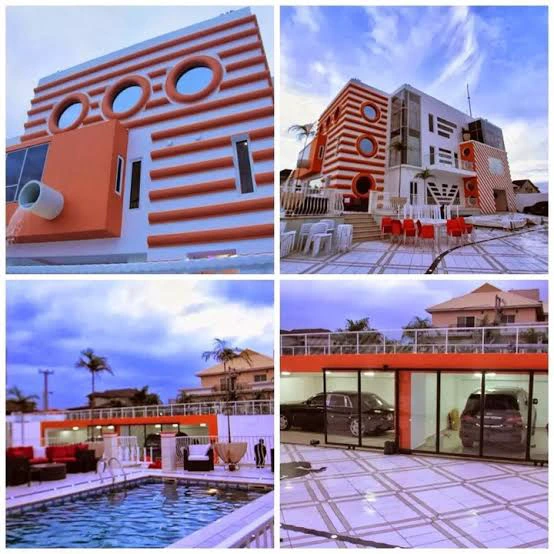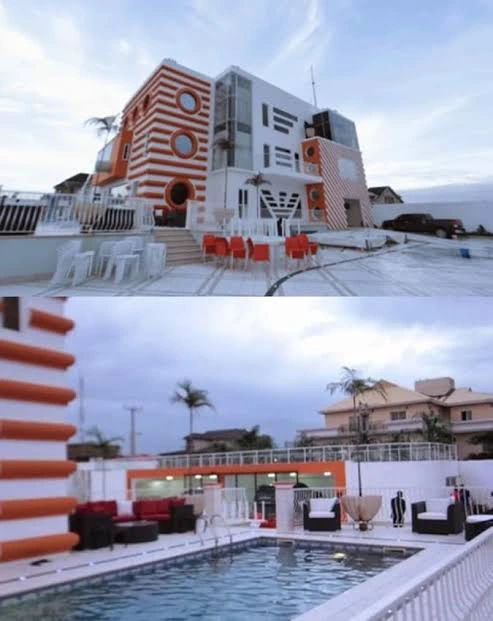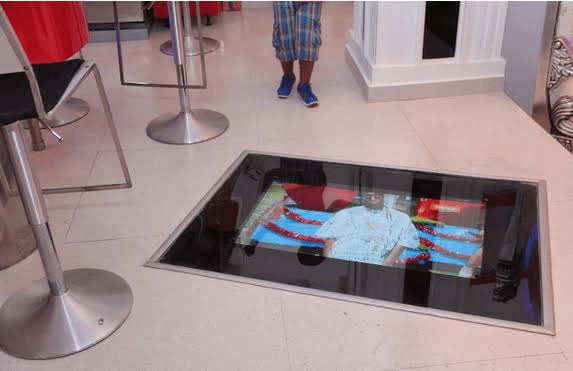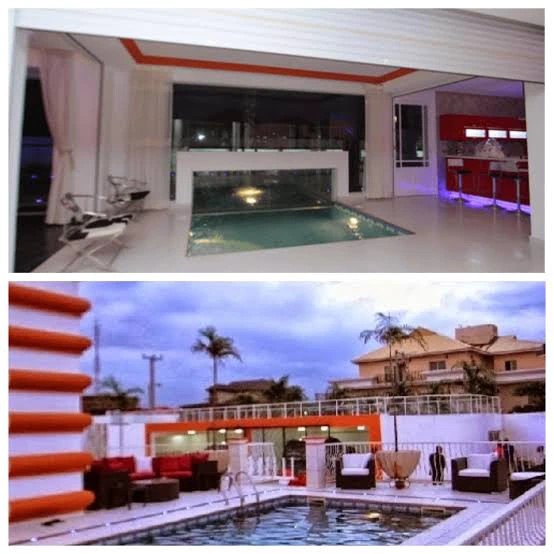 OKWUDILI UMENYIORA BIOGRAPHY
Okwudili Umenyiora popularly known as Dilly, who was born in the United Kingdom (UK) to his Igbo Nigerian parents. When Okwudili was still a teenager, his parents moved back to Nigeria. Dilly's younger brother Osi Umenyiora (who is a former star of Americans National Football League), accompanied Dilly and moved to the United States. Dilly spent most of his youthful years in the United States (US), although he was born in London, UK.
Okwudili Umenyiora during his stay in US, later resulted to some hardtimes with the law enforcement, which eventually led him returning back to his father land, which is Nigeria.
Okwudili Umenyiora endured hardship and built himself up for years and is now reaping what he sow. Dilly is the CEO of a business conglomerate, with interests in automobile, entertainment, real estate and many more, with his automobile firm being his most profitable venture, known as Dilly Motors and has its corporate headquarters around Ibeju Lekki, Lagos Island. Dilly Motors is rumored to be in a profitable partnership with the automobile firm called Germaine Motors (an automobile company that is globally recognized), who Okwudili's mother is currently married to the owner of Germaine Motors.
Dilly the young billionaire is not only engaged in the ownership of Dilly Motors, but also the owner of Eric Manny Entertainment (where the popular Nigerian artiste, Runtown made his name before departing the record label), which is one of the most prominent music recording label in Nigeria.
Okwudili Umenyiora the young businessman cruises around in his luxurious automobiles (who has collection of cars in his garage ranging from Rolls Royce to Lamborghini) in the city of Lagos. Although his actual age is yet to be known, but it is said to be approximately 48 years. He is currently married to the love of his life, Fifi Umenyiora and the union between them blessed them with two children.
Below are wonderful and stunning pictures of Okwudili Umenyiora and his family: