The Bible is recognized as the greatest book ever written and for good reason. It cannot be denied that the Bible is one of the most remarkable books that exists and unlike any text that is written. The Bible gives us guidance on the way we are called to live as Christians. Even though Christians share a certain set of beliefs that they hold as essential to their faith, there are a wide range of interpretations and opinions when studying the Bible. Today, readers and carriers of the message often hear particular verses and passages in different ways. There are certain things that the Bible says that we shouldn't do, but there are those who say that these are taken out of context. While the Bible is often quoted, it is just as often misquoted. There are many sins that we commit on a daily basis without even realizing that we are committing them. Here are five things the Bible forbids but we still do.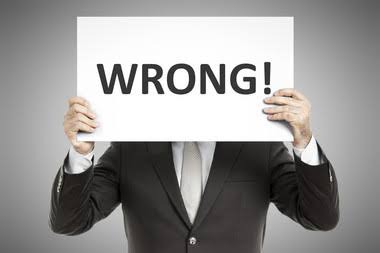 Cursing
We know from Scripture that swearing is a sin. The Bible makes this very clear. Ephesians 4:29 says, "Do not let any unwholesome talk come out of your mouths, but only what it is helpful for building others up according to their needs, that it may benefit those who listen." First Peter 3:10 says, "For, whoever would love life and see good days must keep his tongue from evil and his lips from deceitful speech." Jesus explained that what comes out of our mouths is that which fills our hearts. Eventually, the evil in the heart comes through the mouth in curses and swearing. But when our hearts are filled with the goodness of God, praise for Him and love for others will pour out. Our speech will indicate what is in our hearts. Luke 6:45 says, "The good man brings good things out of the good stored up in his heart, and the evil man brings evil things out of the evil stored up in his heart. For out of the overflow of his heart his mouth speaks." When we swear and curse, we are giving evidence of the polluting sin in our hearts that must be confessed and repented.
Getting Tattoos
Scripture makes no specific reference to tattoos as we understand them in modern times. Some Christians condemn all tattooing as immoral because God clearly forbids them in Leviticus 19:28. The Old Testament law commanded the Israelites, "Do not cut your bodies for the dead or put tattoo marks on yourselves. I am the LORD" (Leviticus 19:28). So, even though believers today are not under the Old Testament law, the fact that there was a command against tattoos may raise some questions.
While 1 Corinthians 6:19-20 does not directly apply to tattoos, it does give us a principle: "Do you not know that your body is a temple of the Holy Spirit, who is in you, whom you have received from God? You are not your own; you were bought at a price. Therefore honor God with your body." This great truth should have a real influence on what we do and where we go with our bodies. Our bodies are so important to the Lord that He calls our bodies temples of God. Remember, we are commanded not to do things that will harm what is precious to Him. We are called to honor our personal temple in order to enter His.
Consulting Mediums/Psychic Readings
Scripture is clear that channeling and attempting to contact the dead is wrong. Seeking advice from mediums, necromancers and fortune-tellers is forbidden. Leviticus 19:31 addresses this issue: "Do not turn to mediums or necromancers; do not seek them out, and so make yourselves unclean by them: I am the LORD your God." Leviticus 20:6 says, "I will set my face against the person who turns to mediums and spiritists to prostitute himself by following them, and I will cut him off from his people." Deuteronomy 18:12 says that consulting mediums or channeling the dead is detestable. We can see from Scripture that God sees these practices as not only sinful, but also without benefit. Instead of turning to mediums in trouble times, we should turn to God and trust Him in every moment. God wants us to trust Him in every moment of our lives. No matter what your circumstances are, remember, you can't control life. Jesus offers a more effective way to live, not a life without trouble or pain but one that shows us how to trust God in every moment. In that trust comes true life.
Pornography
While the Bible doesn't directly mention pornography, it is very clear about how God views actions that promote sex outside of marriage and distorted views on sex. The Bible points out that when a married man "keeps on looking at a woman" to whom he is not married, nurturing a desire to have sex with her, it can lead to adultery. This applies to anyone, married or single who "keeps on looking" at pornographic images with the desire to engage in sexual immorality.
Sexual immorality is denounced in about 25 passages in the New Testament. Jesus said, "It is what comes out of a person that defiles. For it is from within, from the human heart, that evil intentions come, fornication, theft, murder, adultery, avarice, wickedness, deceit, licentiousness, envy, slander, pride, folly. All these evil things come from within, and they defile a person" (Mark 7:20-23). The apostle Paul also said to flee from sexual immorality. All other sins people commit are outside their bodies but those who sin sexually sin against their own bodies.
Getting Piercing
Body piercings continue to be a highly debated topic in the Christian community. While some Christians don't believe body piercing is a sin at all, others believe the Bible makes it quite clear that we need to treat our bodies as temples and not do anything to damage it, including body piercings. The Old Testament prohibitions against cutting or piercing the body as in Leviticus 19 were prohibitions that related to pagan religious customs which were to be avoiding. Yet, there is no mention of piercing in the New Testament. However, the New Testament does discuss taking care of our bodies. First Corinthians 3:16-17 says, "Don't you know that you yourselves are God's temple and that God's Spirit dwells in your midst? If anyone destroys God's temple, God will destroy that person; for God's temple is sacred, and you together are that temple."
We have this command in 1 Peter 3:3-4: "Your beauty should not come from outward adornment, such as elaborate hairstyles and the wearing of gold jewelry or fine cloths. Rather, it should be that of your inner self, the unfading beauty of a gentle and quiet spirit, which is of great worth in God's sight." In our culture, much emphasis is placed on outer appearance, but that's not where our beauty lies. In the same way, body piercings are outward adornment and we should be careful to give more effort to the development of the inner self.
Many of the things on this list are highly debated, even within the Christian community and because they have become so normalized, many don't see the harm in doing them. The important thing to ask yourself is what your motive is? Ask yourself whether or not the action or decision is bringing you closer to God, or pulling you further from Him. We surrender walking with Jesus. But our Lord doesn't want us to walk across Him. He wants us to walk with Him. Too often, we get lost in a world of sin and actions that move us further away from the cross.